vifugo offers you the possibility to pass the data of all subscribers of your videos to all third-party tools that have an inbound API on HTTP GET or HTTP POST basis. This way you can continue to feed them there via newsletter or even send all emails via the third party provider instead of via vifugo.
Based on our experience, the interface can be used to connect to the following third party tools:
4leads
Acquibee
Mobile Marketing System
Optivo Broadmail
Worldsoft
Zoho
Salesforce
The setup is done directly in the respective video tunnel.
1. Set up in the video tunnel which data should be transferred via GET / POST calls
With the POST / GET interface you can enter the HTTP GET and HTTP POST calls in vifugo, which are executed at certain times in the background. For example, you can trigger the sending of the access data via Optivo Broadmail during registration, or 10 minutes after the participation for viewers you can pass the information to Worldsoft, which participant has actually watched the video.
The procedure is always the same. Only the content to be entered differs. It is best to check the API or interface descriptions of the respective third-party provider.
You can make the settings directly in the video menu. To do this, open the 'Interface calls' menu of the video whose participants you want to transfer via GET / POST: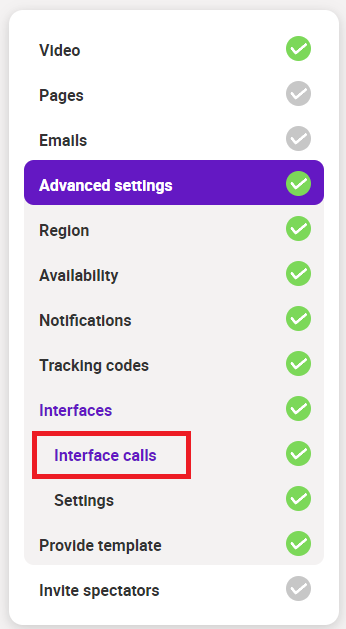 Here you can choose between different points in time when you can transfer data via GET / POST, for example 'Upon registration' or 'After participation for viewers'. If you click on a plus button at the respective time, you have to follow the following five steps:
1. Select the POST / GET interface:

2. Specify the exact time of data transfer:

3. Enter the basic URL of the HTTP call at "BASIS-URL":

4. Choose at "METHOD" if it is a GET or POST call:

5. Select at "Parameter" the type, if it is a fixed value, a vifugo data field, or no value. Then define the value and specify under "Parameter name" in which data field the content should be written at your third-party tool:

What exactly happens at your third-party tool - i.e. whether e-mails should be sent, etc.? - you can set directly there.
2. Tips & Tricks
1. If you don't want to send all emails via vifugo but via your third party tool, you should select in the menu 'Emails' -> 'Settings' that you don't want to send the emails via vifugo.
2. If you send the emails via your third party tool, you should select in the menu 'Interfaces' -> 'Settings' if you want to perform a double opt-in process or not - depending on this, your participants will be redirected to the opt-in page or directly to the video room after registration.
---
Do you have any questions?
Then just submit a new question! ➜ Submit a new question
---